In the last blog post we introduced the pneumatic arm that we have been working on.
One of the joints was a ball bearing joint, but we wanted to reduce the parts to lower the cost and to reduce the amount of assembly.  Therefore we designed a printed part with a flexible hinge.
First we designed a test piece to see how the flexible PLA would bind to regular PLA (very well). It also sticks extremely well (or rather too well…) to Kapton at 65 degrees C.
Then we redesigned the main arm of the pneumatic arm to include a hinge.
The first print failed because the tower that Cura put in place to switch the nozzles materials cleanly detached from the bed. Therefore we had to write and run a small C++ program on the G code to remove all the second nozzle outputs above a certain point in the print. This can be found here if you are interested.
We had a couple more goes at printing the arm. One of the problems was that the flexible PLA just stuck too well to the bed, so when removing the part it was damaged. We got round this by printing a single layer of normal PLA beneath the flexible hinge.  Then it came out pretty well.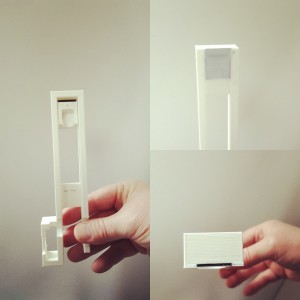 This was designed in FreeCAD, sliced using Cura and printed on a dual colour Ormerod 1/Ormerod 2 hybrid RepRap printer.
Now to try and print flexible arms to hold the piston pivot in place…
Printing Hinges for the Pneumatic Arm