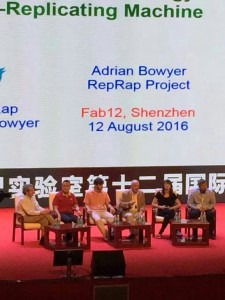 I have just got back from China, where I went to talk with a company for whom we are doing some work and also to give a presentation at the Fab 12 Conference, the theme of which was artificial self-replication.
I flew into Hong Kong, and then drove across the border to Shenzhen. That drive round the Pearl River Delta is an almost science-fiction experience. The combination of lush jungle vegetation, skyscrapers and suspension bridges, with aircraft, ships and cars moving in amongst, makes you feel as if you have been dropped into Mekonta on Venus in a Dan Dare comic strip. This is not surprising, as that was what the architects and engineers who are building the Pearl River Delta were reading when they were growing up…
I spent three days at the company discussing designs with their engineers, then moved on to the conference. I had been invited to talk about RepRap and the technical and social aspects of self-replication by Neil Gershenfeld of MIT, the founder of Fab Labs.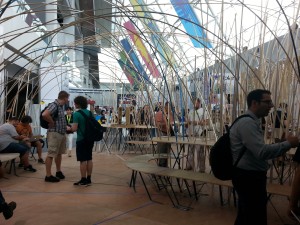 This was a very good event – plenty of interesting exhibits, and interesting talks.  Two that stood out to me where on the construction of cargo drone ports in Africa and self-replicating systems for space exploration.
Afrotech are working on the drone port which they envisage will form a significant part of distribution infrastructure in developing countries, bypassing conventional road and rail in the same way that mobile phones bypassed copper networks in the same locations.
Dr. Philip Metzger is looking at the idea of robotic construction in space involving self-replication for automatically making habitable structures in advance of the arrival of human beings.
Flatteringly, but time-consumingly, several TV stations wanted interviews.  I managed to escape them eventually and talk to some of the makers and Fab Lab people who where there.
I also found time to go to Huaqiangbei, the electronics supermarket in Shenzhen.  Older readers will remember what parts of Tottenham Court Road used to be like in the 1960s – dozens of surplus shops selling every imaginable electronic component and device.  Huaqiangbei is like that, but all along a street and on six floors – hacker heaven.  Interestingly there was only one 3D printer stall though (picture above, with your correspondent looking at an SLA machine).
All in all a most worthwhile trip.
Shenzhen, Centre of the Making World