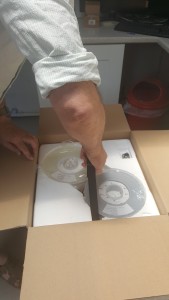 A couple of weeks ago we had a giant box delivered…
Rewind a few more weeks and Adrian had attended the first 3D Printing Industry Awards dinner where he had received the award for Outstanding Contribution to 3D printing. During the evening he met and spoke with many people from the 3D printing world including Siert Wijnia, one of the founders of Ultimaker BV.
At the start of the RepRap Project one of the people working on it with Adrian was Erik de Bruijn.  Siert, Martijn Elserman and Erik used RepRap technology to create Ultimaker's 3D printers, which – like RepRap – are open source.  To thank Adrian for the RepRap Project, which was and is the origin of his company, Siert very kindly offered to give Adrian an Ultimaker 3 Extended printer.  That was what was in the box.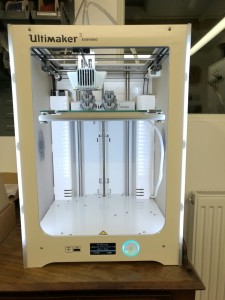 Printing pine cones by Faberdashery
Since then we have been running experimental prints on it to get a feel for it, as well as using it for prints we need for other experiments and development.
It is a two-material machine with a soluble support option (PVA).  We tried a fine Voronoi sphere scaled to 20% which certainly would not have printed without support.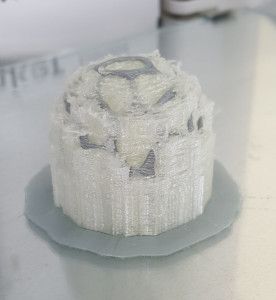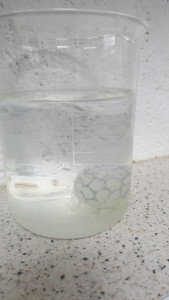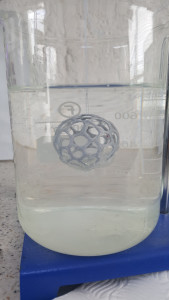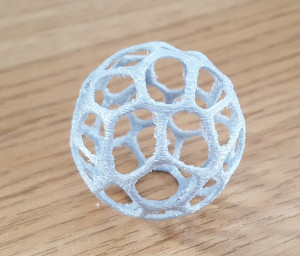 There was a lot more support than print, but it all dissolved away overnight.  This was printed with a layer height of 0.25mm, as was…

Tree Frogs printed (scaled to 80%)
…the frog on the left.  On the right the layers were 0.06 mm, which – as you can see – gives a pretty fine result.
Adrian is very grateful to Siert and to Ultimaker for giving us this excellent machine (and we would have said "excellent" even if we'd had to pay for it…).  Thanks!