3D Printing
3D Hubs
Need something 3D printed? See our profile on 3D hubs.
Click here to get an instant quote and order a 3D print:
3D printing is the most versatile of all manufacturing processes, and it can make more, and more complicated, shapes than any other process that humanity has yet devised.
RepRap Ltd have a range of RepRap FFF 3D printers, including Ormerod and Fisher, on which we can print your design.
We need STL files of the objects you want printed.   You can download free objects to print or design them yourself with a 3D CAD system.  All 3D CAD systems can output STL files, and there are a number of free ones available (we use FreeCAD at RepRap Ltd.). 3D printing still has its limitations, and you will get the best results from your design if you know about those limitations and design with them in mind.  There is a good guide in Make Magazine by Kacie Hultgren (a.k.a. PrettySmallThings) here.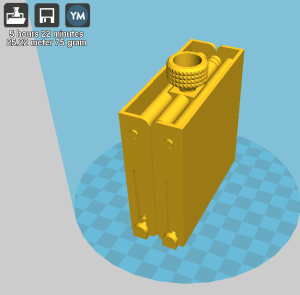 The largest item we can print would fit in a box that is 200×200 mm2 at the base by 340 mm high.  Bear in mind that a solid object that big will take a long time and cost quite a lot of money.  Small things about 50x50x50 mm3 are pretty low-cost, though.  Remember that costs go roughly as the cube of size, as 3D printing is a volume process.
Get in touch and we can give you a quote.
Lasercutting
We have a 40W lasercutter and can cut your 2D designs from DXF files.  The usual materials we work with are MDF, plywood, and acrylic sheet, though we can cut other materials as well (though not metals).  The thickest we can cut is 6mm, and the maximum area of cut is 580 x 290 mm2.
All CAD systems can create DXF files.
If you have a file you would like cut, please contact us for a quote.
Design
We also offer a 3D design service.  We can create engineering designs from your sketches or even an e-mail description, then supply you with the 3D CAD files in ISO 10303 (STEP) format and optionally 3D print prototypes of those designs for you.  We are an open-source company, so we will offer you a discount on our charges for design if you are prepared to open-source the results.  Alternatively, if you want your design to be kept confidential, that's fine too.
Adrian Bowyer – Speaker
Adrian is able to give informative and interesting lectures and talks, up to an hour long, on RepRap and the history of the RepRap project. He can also provide a RepRap demonstration showing how a RepRap FFF 3D printer works.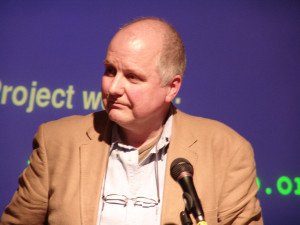 If you would like him to come to your conference or group meeting please get in touch with the following information:
Date (and time, if known) and venue
Number of people in audience expected
Type of event – is the audience charged an admission fee*?
Demonstration of a working RepRap required (additional charges may apply)?
*For events where an audience is charged for attending or for closed meetings, Adrian will charge a speaker's fee. For events that are open to all and free to attend Adrian will only charge for travel expenses from his home in Wiltshire, UK.
Please note that Adrian is asked to speak at many events each year and his diary does fill up around six months in advance.
For other speakers on RepRap, see this RepRap Forum post.